THE FLATS – The Georgia Tech men's and women's cross-country program announced its 2022 schedule of competition on Monday. The six-meet regular season begins Sept. 1 as the Jackets compete in the Berry Opener, which starts at 7 pm at Berry's 2k grass loop in Mount Berry, Ga.
"We're excited to get back to competition," said coach Alan Drosky. "Every school year and every season is a new beginning. This year, we'll challenge ourselves in some outstanding out-of-region competitions, both in Pennsylvania, along with a strong regional meet in Huntsville. We'll also have some great opportunities locally."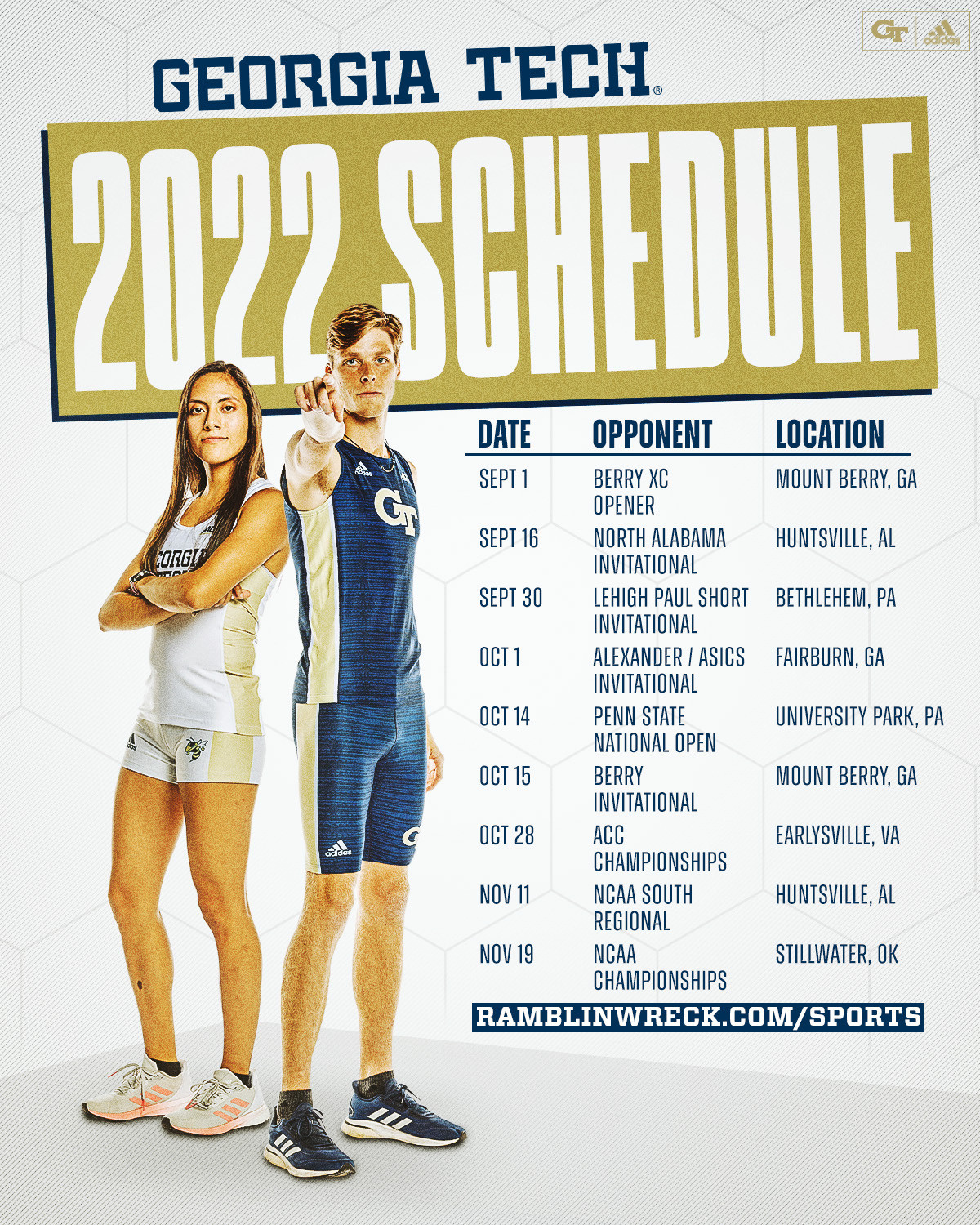 Following the season opener, the Jackets will head to the North Alabama Invitational on Sept. 16 in Huntsville, Ala. The Jackets will next split their weekend between the Paul Short Run, hosted by Lehigh Sept. 30 in Bethlehem, Pa., and the Alexander Asics Invitational Oct. 1 in Fairburn, Ga. The White and Gold will conclude the regular season with another split weekend between the Penn State National Open Oct. 14 in University Park, Pa. and the Berry Invitational Oct. 15 back in Mount Berry, Ga. to bookend the regular season.
The ACC Championships for both men and women will be held on Oct. 28 in Earlysville, Va., hosted by Virginia. The NCAA South Regional is scheduled for Nov. 11 in Huntsville, Ala. for the second straight season. The NCAA Championships are set for Nov. 19 in Stillwater, Okla.
"In the end, we'll be able to make sure we field our strongest squads for the important post-season competitions," added Drosky.
Tech concluded its 2021 cross country season in the NCAA South Regional. Despite the departure of one of the Jackets' most decorated runners in school history Nicole FegansTech returns notable performers Liz Galarza on the women's side and James Cragin for the men's squad, among others.
Alexander-Tharpe Fund
The Alexander-Tharpe Fund is the fundraising arm of Georgia Tech athletics, providing scholarships, operations and facilities support for Georgia Tech's 400-plus student-athletes. Be a part of developing Georgia Tech's Everyday Champions and helping the Yellow Jackets compete for championships at the highest levels of college athletics by supporting the Annual Athletic Scholarship Fund, which directly provides scholarships for Georgia Tech student-athletes. To learn more about supporting the Yellow Jackets, visit atfund.org.