Happy Beynaissance day hive!! Not to disturb you from your on-repeat listening of the mind-blowing new Beyoncé x A.G. Cook link up but we have some fashion news that will make today even chicer than it already is. From stunning Homecoming merch with the hottest streetwear names and Dior's AW22 campaign, to an Acne Studios artist collab and Maison Valentino's next guest designer they're platforming. There's also news from Dr Martens, A-Cold-Wall* and GANT, as well as swimwear from icons Rudi Gernreich and Skims to check it out. It's what Beyoncé would want. Here's what's in fashion. 
Image courtesy of Rudi Gernreich
Rudi Gernreich is back to dominate the swimwear space
Sit down gen z fashion girlies, it's history time. So Rudi Gernreich was an iconic Austria-born American fashion designer who paved the way for sexually liberated fashions in the 1960s, especially in regards to swimwear. Cutouts, genderless clothing, transparent 'No Bras' and topless monkini's? He did all that decades before the TikTok algorithm made them popular again. The thong is his biggest impact though, inventing cheek-revealing swimwear in 1974 when LA banned nude beaches that later became a staple shape of many women's lingerie collections and an iconic fashion moment for 00s celebs looking to make a pair of low-rise jeans sexy. The power that that has (etc). Though he passed away in 1985, the brand continues to live on and has just released a new line of swimwear that pays tribute to his impact. Looking for inspo from their archive, the collection features one shoulder bathing suits with a daring cutout on the abs in lime green, block coloured swimwear with plunging neck lines and sexy side panel-less bikinis showing off your glowing bod. There's also more classic monkinis and a nod to the original thong by Rudi in a loving tribute. Go find a new vintage designer to stan by checking out the full new collection on the brand's website. TG
Central Saint Martens students are restyling Dr Martens
Is there any shoe with more Arts student energy than Dr Martens? Pair them with a tote bag, oyster card, chipped nail varnish and a knitted vest from Depop and you could look like a hyper-stressed, underslept 21-year-old speed walking to a 9am lecture. Fully leaning into their uni couture vibes, Dr Martens have paired with one of the most iconic universities of them all, Central Saint Martens. Five of their MA Fashion students – Francesca Lake, Xuesong Yang, Jad Jreissati, Lauren Patchett and Jude Hinojosa – were tasked with designing outfits to go with iconic Dr Martens sandals and shoes that embody the brand's rebellious spirit and it's current all access summer campaign. The results look like the chicest brochure for a university open day we've seen in our lives with bright pops of colour, booty shorts and textured dresses everywhere. Make your own stunning outfit ready to hit up The Queen Adelaide  with the CSM kids and pair it with one of Dr Martens All Access Summer collection shoes too, still available from their website. TG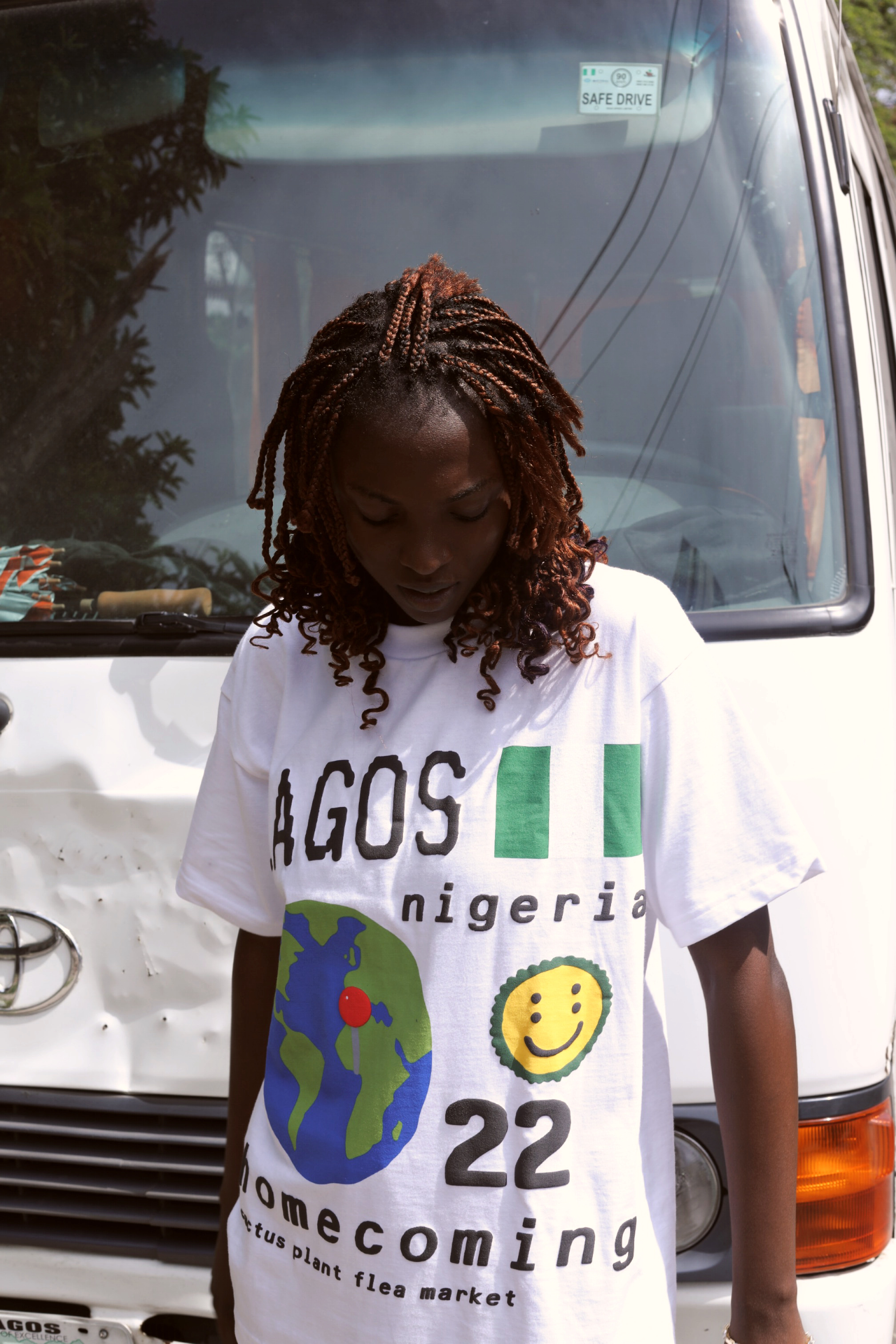 Image courtesy of Homecoming
Bring Homecoming to your very own home
If you've ever attended Homecoming in Lagos, then you know damn well that getting the t-shirt to say you were there is an absolute must. Why? Well, because the gear on offer at the festival isn't just your average memorabilia merch – no no, it comprises a series of exclusive collabs with some of the hottest streetwear labels around, from Stüssy to Patta, Off-White to Cactus Plant Flea Market. While the privilege of accessing these bona fide grails has previously been limited to those that actually attended the event, this year, things are a little different. How? Well, now you – yes, you! – can cop coveted pieces from Homecoming's line of mega collaborative capsules wherever you are, thanks to a newly launched webshop. If what we've already told you wasn't enough reason to click on over and get your cards out, then the fact that Ambush has created an exclusive new piece to toast the launch surely will be! Head here to shop till you drop! MS
Dior channels timeless elegance for its new campaign
Unless you've been walking around blindfolded for the past few weeks, you'll have probably noticed that the AW22 campaign season is well and truly upon us. Among the latest to reveal their take on the styles that will define the months to come is the venerable Maison Dior, with Maria Grazia Chiuri extending her collaboration with Italian photographer Brigitte Niedermair on an image series that embodies the stark confidence of her collection. Drawing inspiration from the female portraits of artist Mariella Bettineschi, the images see a bevvy of the house's muses captured in a timelessly elegant scarlet setting, sporting the collection's structured Gingham Bar suits and exquisitely delicate, webby knits. MS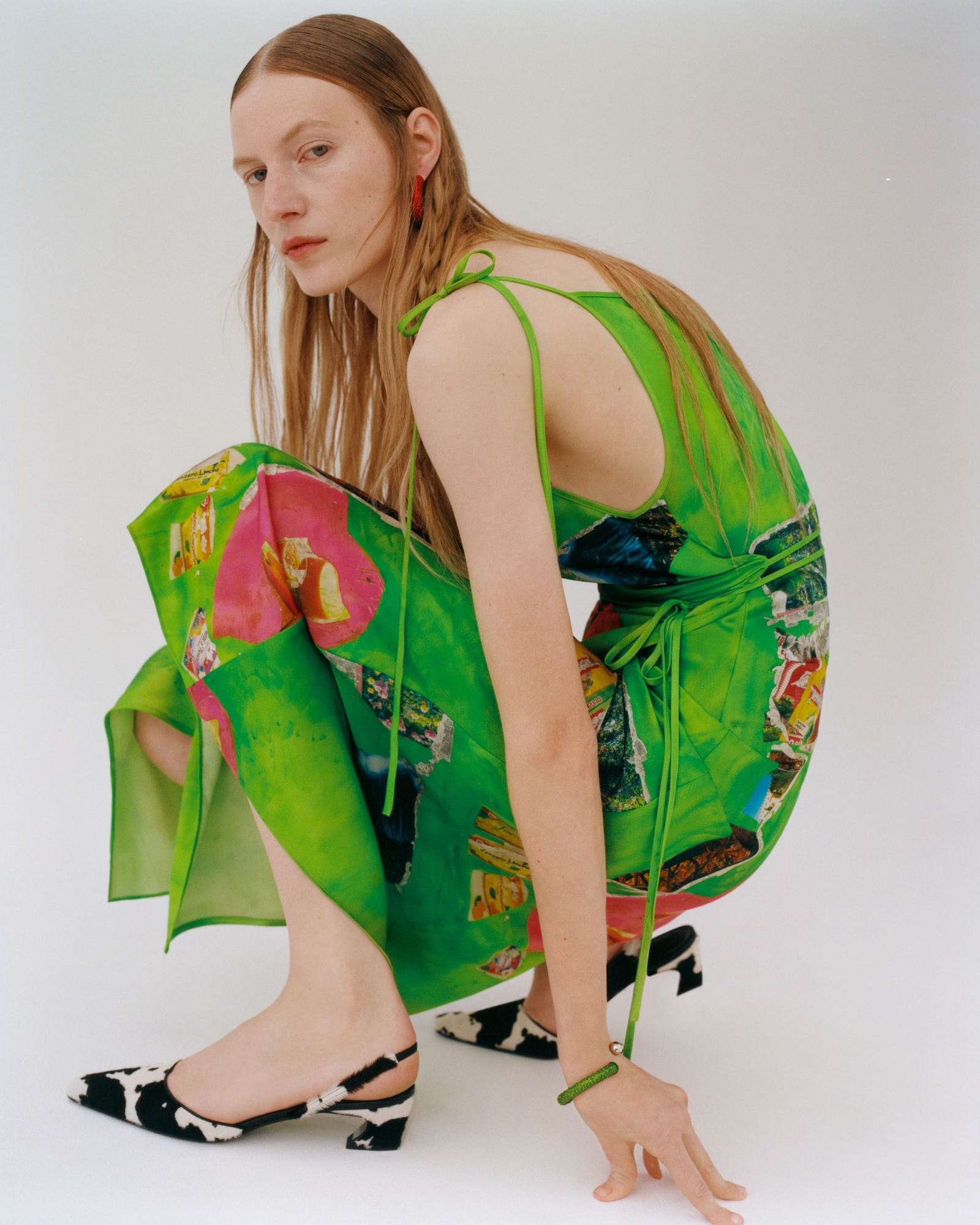 Image courtesy of Acne Studios
Acne's new capsule has been designed by an iconic American artist
Martin Laborde is a celebrated postwar artist who was born with a hearing defect that then heightened his visual senses, creating a new perspective on the world around us that he channeled into his art. Mythical and spiritual, his surreal collaged and constructed art included hidden psychological meanings and characters who had appeared to him in dreams. Now, he's partnered with Acne Studios to bring those beloved works into the fashion realm, with patches of horses, fruit bowls, big cats and food packaging featured on stringy maxi dresses, oversized hoodies, flaired jeans and luxurious silk scarves like they were cut from the pages of a magazine. Part of the brand's AW22 Womens line, the capsule was then featured in a short film directed by Martin along with LA based filmmaker and actor Moni Haworth. Scenes have two girls in pony covered white tees feeding goats and playing with an aquarium. Never has being a horse girl been chicer! Check out the full collection on the Acne Studios website. TG
A-Cold-Wall* taps Pa Salieu for its AW22 campaign
It's been a big week for A-Cold-Wall. Not only has the house that Samuel Ross built opened its very first standalone brick-and-mortar store in Beijing, it's also just dropped a mega new campaign. It's star? i-D fave Pa Salieu! In a dynamic image series styled by Robbie Spencer and shot by Ken-Tonio Yamamoto, the bright, futuristic timbre of the brand's Pre-Fall 2022 collection is brought to the fore, underscored by Pa's irreverent spirit. It really is a dream match, in large part due to Pa's "ability to examine the existing social landscape while imagining new futures and possibilities", a release reads, attributes that "place him firmly in line with core ACW themes set by Samuel Ross." Raising a glass to you both, Samuel and Pa! MS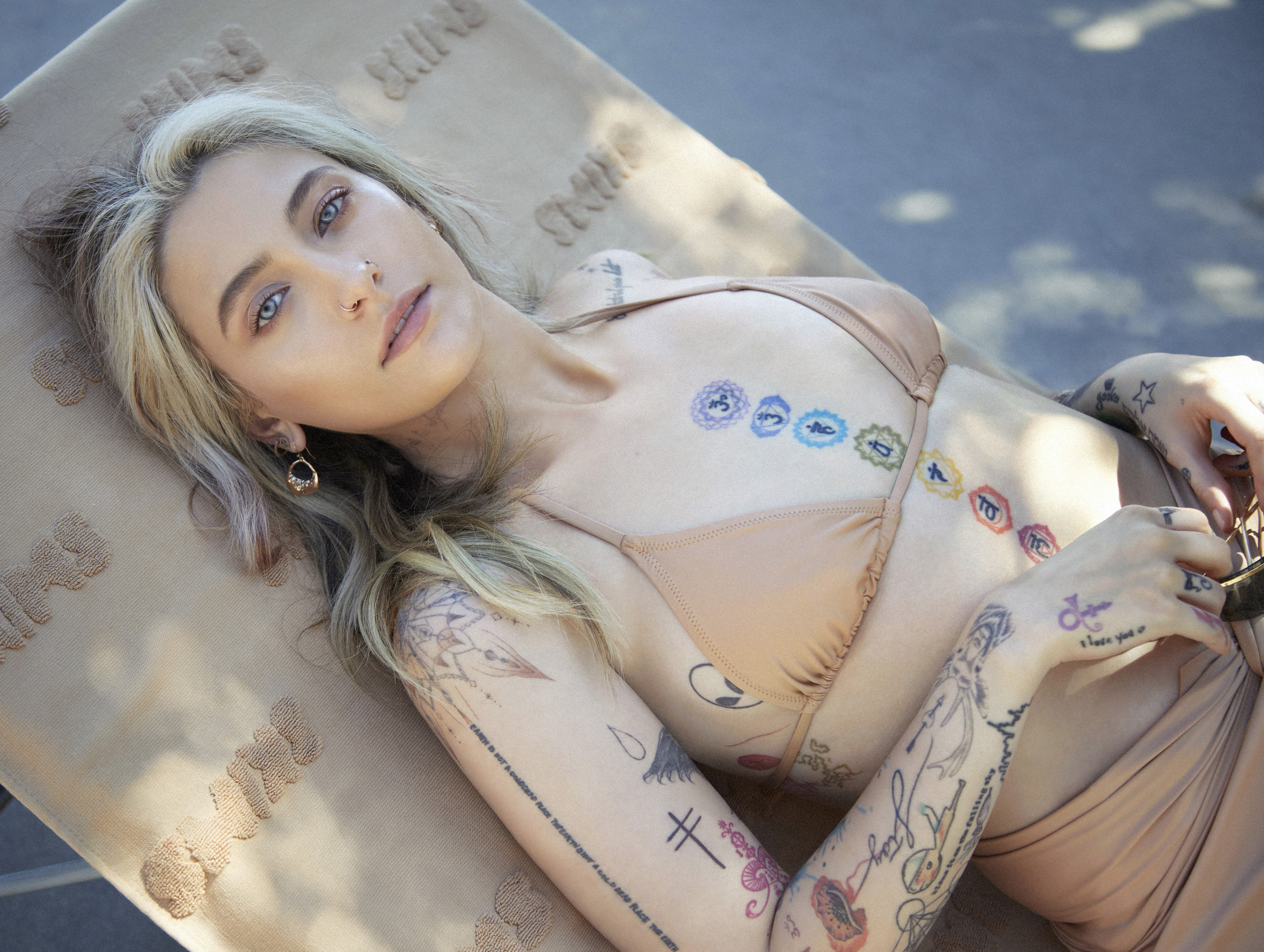 SKIMS debuts its most innovative swimwear yet
Summer is, obviously, the season of sexy swimwear, and there are few brands out there doing sexy swimwear quite like SKIMS. This week, the brand's legion of loyal fans gained a whole new reason to rejoice with the arrival of its most innovative offer to date, with the introduction of unexpected pieces like swim gloves and tank dresses, and riffs on familiar favourites, like the curvilinear cut-out monokini and a new, daring micro bikini set. Of course, this bold new step for the brand required a bold new campaign, which – in the spirit of the ongoing yen for all things indie sleaze – has been lensed by Cobra Snake. Starring a new generation of cultural icons – Paris Jackson, Bella Poarch and Madison Bailey – they're seen through the legendary photographer's signature, unfiltered lens. Shop the collection here! MS
St. Vincent is now a GANT girlie
St. Vincent is one of those rock icons with impeccable style. The Masseducation and Daddy's Home songstress has evolved her stage looks over the past fifteen years from vintage leather finds and apocalyptic naked dresses to glam rock power shoulder looks and sequin embellishments everywhere. And now, she's launching a new capsule collection with American label GANT inspired by '70s New York: Its rock'n'roll scene, and its glamorous disco styles. There's oversized airy Hamptons-style oxford shirts in lemon, sky blue and white pinstripe, a blush pink blazer and shorts suit combo, rich chocolate flairs and white sports socks adorned with the singer's name or an iconic line from one of her songs that only the true stans would know. Finally, two silk scarves are covered in either a bold toned psychedelic print or a collaged headline style. Steal the show at the next St. Vincent tour by checking out the collection at the Gant website. TG
Valentino's Instagram is being taken over for Milan Fashion Week SS23
For the new gen of creatives and fashion designers, it's a constant struggle to make your work stand out from the crowd and build a platform to showcase it. To support the emerging designers of tomorrow, Valentino decided to share theirs, having Milan-based Marco Rambaldi and his inclusive collection of bubblegum knits taking over the @maisonvalentino Instagram account as part of a series of appointments in partnership with The Camera Nazionale della Mode Italiana. Now, the next to display their collection to Valentino's 17 million followers, is ACT N°1, an Italian brand inspired by the nostalgia, childhood and personal experiences of it's two designers Galib Gassanof and Luca Lin. Chinese fine art and Azerbaijani craftsmanship collide in jeans with patches of tulle skirting on the hip, cutout denim jumpsuits and ancient painting printed silk shirts. They will debut their next collection on @maisonvalentino during Milan Fashion Week SS23 this coming September. Keep your eyes peeled! TG
Georgia Pendlebury and Arnaud Lajeunie on their new photobook series
While much of the work that stylist Georgia Pendlebury and photographer Arnaud Lajeunie work on comes together in a matter of weeks – or even days – MUD, the Paris-based pair's ongoing series of photography books, has been in the works for five years and counting. Based on the premise of inviting a group of Instagram-cast girls to countryside locales and documenting the scenes that emerge, the project's first four issues, published by Art Paper Editions, comprise a series of striking-yet-intimate vignettes. Here, Georgia and Arnaud discuss the process behind their ambitious body of work. MS
What sort of conversations was MUD born out of?
For us, it made a lot of sense to extract ourselves from the constrained time and space related to our practice in fashion. When this project started five years ago, it was the result of a genuine impulse to work together on a sort of huis clos with young women that inspired us and to do so over a longer time span than on classic magazine editorial for example.
We prevented ourselves from interfering too much in order to let the synergy between the girls become the subject of the work, rather than our pre-conceived vision of it. The project is a constant tension between staged and spontaneous, it generates individual images, but all of these needed to fit inside a bigger, larger, group of pictures. That was essential to us, and that is how, over the years we built up MUD as a long-running project – which is still ongoing today! The four chapters now published echo each other – despite the variety of subjects and locations, they all belong to a larger ensemble. It's the same story, the same gameplan – only the girls and the location changes.
Tell us about the casting process — how did you go about finding the girls you worked with? 
For most of the chapters, Georgia worked on the casting herself. She's really passionate about it – she spends hours scrolling Instagram and speaks to the girls directly. it's very organic and we choose girls that truly speak to our guts. 
What sort of qualities were you looking for in the girls you shot?
It's hard to put into words… maybe a form of honesty? The feeling of flesh, real bodies, girls that have power in different ways, that own who they are. That touches us the second we see them. Although the research takes a long time, the final decision on the casting between the two of us often takes very little time, it's very instinctive.
Is there any particular significance to the locations you chose?
Nature and space were our starting points. We looked for a new environment each year, but it still had to be a place that didn't feel too far away – we didn't want to feel like tourists exploring exotic locations. But it also had to feel a bit isolated, to nourish the sort of huis clos atmosphere of the project – and that's also because we and the girls need to, after a few days, feel that we own the place in a way. 
The four locations we've used so far have a large variety of elements, from alpine mountainscapes to Swiss lakes to the French countryside. And maybe in a way, we were also instinctively aiming to create a parallel narrative via these various visual landscapes.  The locations could almost be seen as a character of the project.
Looking back on the work, what sort of evolution do you see over the five years you spent creating it?
It's a good question because when we edited the book this year we obviously had to dig again into the previous chapters. To be honest, what struck us was the consistency.
Of course, the girls change, but they all have the certain qualities we mentioned earlier. While they haven't necessarily been shot together, throughout the years, they grow as a group. They belong together.
What are the most memorable images or moments spent creating MUD for you?
It's so difficult to choose! There is one image, though, we recreate in each issue that we call the "cascade". A girl stands up on a table, naked, and she pours water in front of herself in order to create a sort of semi-transparent curtain that hides her nudity. The idea was inspired by a sculpture, and it felt so special the first time we shot it, so we decided that this image would become one of MUD's visual signatures. During the exhibition, we printed the first four at a human scale, and our fantasy is that in ten years we'll have a dozen of them all lined up on a wall.
More than a specific moment, though, what stands out for us is the overall energy generated by seeing and feeling the barriers between these strangers slowly fading away, and a sort of sororal trust emerges. This is a strong aspect of MUD. And another element that is very dear to us is the appreciation of all the girls that were involved – the emails and texts we received after each chapter about how much it meant for them, how they enjoyed the confidence it gave them, how it helped their relation to their own selves and bodies. That has had a huge impact on us, and also really motivated us to keep going.
Follow i-D on Instagram and TikTok for more fashion.