Plates – No. 5 Georgia Tech volleyball (6-1) takes the SEC road trip for the second weekend away from home this season, traveling to No. 24 Arkansas (7-1) and Georgia (8-1). The Yellow Jackets and Razorbacks begin Thursday at 8 p.m. ET in Fayetteville, Ark. before unleashing pure, old-fashioned hate on the Bulldogs this year in Athens, Ga., at 7 p.m. ET on Saturday.
Cover
Thursday September 15 | No. 7 Georgia Tech at No. 24 Arkansas | 8 p.m. ET | SECN+ | See | Live statistics
Saturday September 17 | No. 7 Georgia Tech at Georgia | 7 p.m. ET | SECN+ | See | Live statistics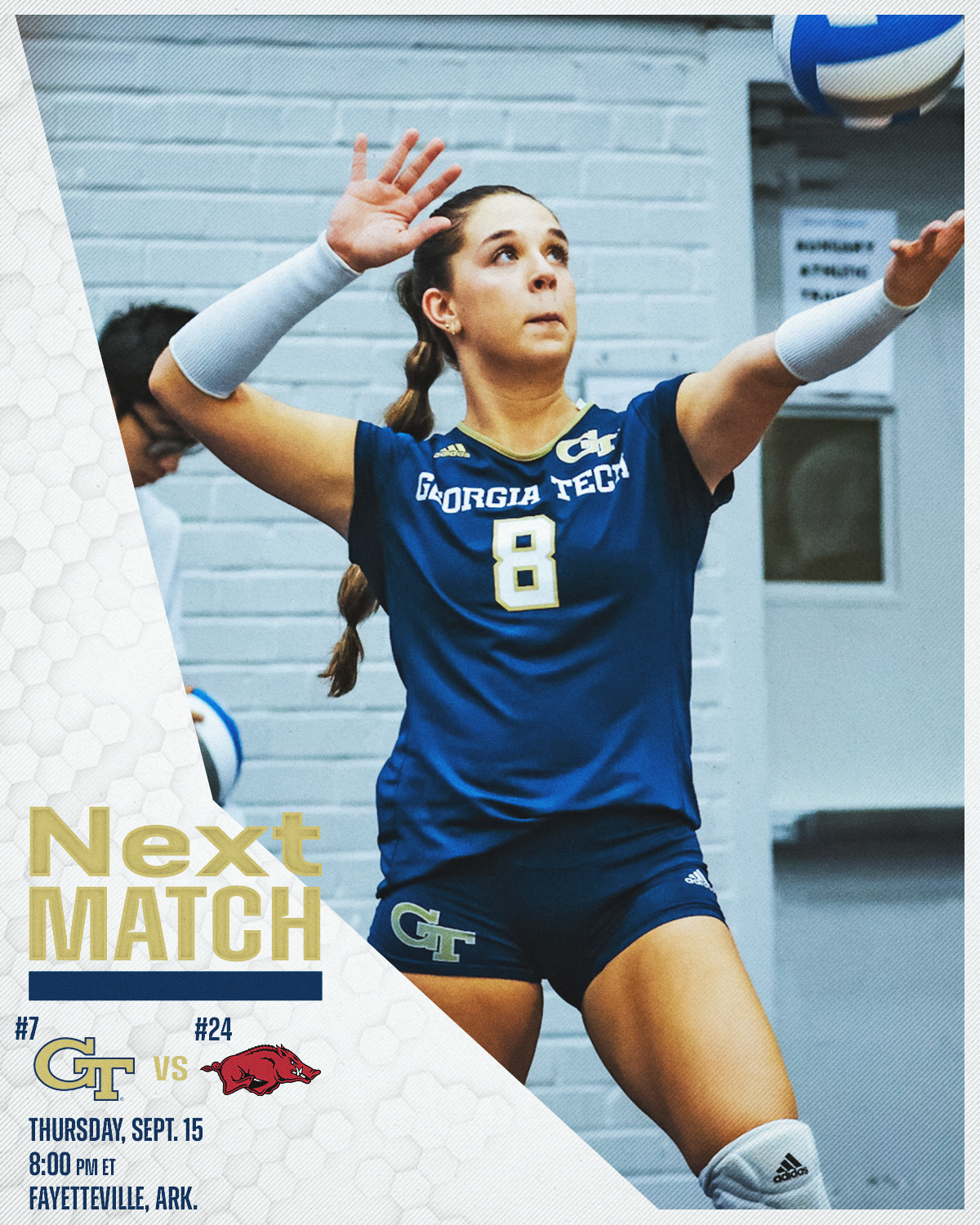 Stories
The Jackets are ranked No. 7 in this week's AVCA DI Coaches Preseason Poll, joining the teams of 2003 and 2020 for the fourth-highest points total in program history.
Tech's pick marks its fifth consecutive appearance in the nation's top 10 after being ranked No. 8 at the end of the 2021 season and in each of the four picks this season.
The Yellow Jackets have been listed in 42 straight top 25 picks.
Tech recently split the top-10 weekend at home in the Georgia Tech Classic. The White and Gold previously swept No. 10 BYU for the first time in program history against a regular-season top-10 opponent. The win was his fourth top 10 win of the regular season. Including postseason play, the Jackets now have six top-10 wins, with No. 9 seed Ohio State as soon as the 2021 Sweet 16.
Top outside shooter Julia Bergman He currently leads the nation in rebounds (5.54) and points (6.33).
The colorful jacket killed 1,300 people over the weekend, and currently owns 1,326.
Bergman posted her third and fourth 20+ kill streak against top 10 teams, former No. 10 BYU and former No. 8 Ohio State. As the Jackets beat the Cougars for their first top-10 win of the season, the outside hitter led the game with 20 kills to go along with nine digs, two aces and two blocks. Those 20 kills and 23.5 points in a three-set match marked the most in the ACC this season. Bergman followed with another match-high 21 kills and a pair of digs against the Buckeyes.
Overall, Bergman earned Georgia Tech Classic all-tournament honors with 41 kills (5.86 per set), 11 digs, two aces and two blocks (one solo, one assisted). Graduated middle block Erin Moss She joined in the top-10 weekend with six blocks, four digs and seven kills.
As a unit, Georgia Tech is currently fourth in the ACC in kills per set (13.29).
Coming off the 2019 NIVC title, Tech has won 64 of its last 77 games.
Over the past four seasons, Georgia Tech is 39-6 at home in O'Keeffe Gymnasium. Tech is 298-103 (.744) all-time in the 28-year history of O'Keefe Gymnasium.
A series of stories
Georgia Tech is undefeated against Arkansas and has won the seven contests between the two with a 21-3 women's record. Most recently, the Yellow Jackets swept the Razorbacks at a neutral site a season ago. Three of the White and Gold's wins came on the Flats, while the other four were neutral matches. The Jackets swept four matches in the series, never allowing the Razorbacks to claim more than one set in a single match, dating back to their first contest at neutral site in 1996.
Georgia leads the all-time series 24-18 over Tech. The Yellow Jackets swept the Bulldogs at home last season. Since 1999, Georgia Tech is 18-4 in pure old-fashioned rivalry games, including seven-game winning streaks between 1999-2004 and 2006-12.
Next
Georgia Tech begins conference play, taking on ACC foes Wake Forest (6-3) on September 23 at 7 pm and Virginia Tech (5-4) on September 25 at 1 pm in O'Keeffe Gymnasium.
Alexander-Tharpe Fund
The Alexander-Tharpe Fund is the fundraising arm of Georgia Tech athletics and provides scholarships, operations and facilities for Georgia Tech's 400-plus student-athletes. Be a part of developing Georgia Tech champions every day and helping the Yellow Jackets compete for major college athletic championships. Annual Athletic Scholarship FundScholarships awarded directly to Georgia Tech student-athletes. To learn more about supporting the Yellow Jackets, visit atfund.org.
For the latest on the Georgia Tech Yellow Jackets, follow us on Instagram (@GTVolleyball), Twitter (@GTVolleyball), Facebook (Georgia Tech Volleyball) or visit us at www.ramblinwreck.com.