[ad_1]

Plates – Georgia Tech volleyball is set to host its annual Gold/White scrimmage Sunday at 4:00 pm in O'Keeffe Gymnasium.
Admission to the scrimmage is free, and gates open at 3 p.m., with parking in the McMish Pavilion lot and the East O'Keefe Gymnasium lot opening two hours prior to game time. Parking will be available at Eighth St. and Fowler St., as well as at the family residence, beginning two hours before the game.
The scrimmage will give fans a first look at the 2022 team, including a pair of transfer All-Americans. Tamara Otten (State of Illinois) and Tally Marmen (UCF) with incoming freshmen dear white, Anna Bozzi And Mikayla White. Joining the newcomers will be 13 returnees from Tech's 2021 Elite Eight team, the reigning ACC and AVCA Region Player of the Year as well as a first-team All-American. Julia Bergman.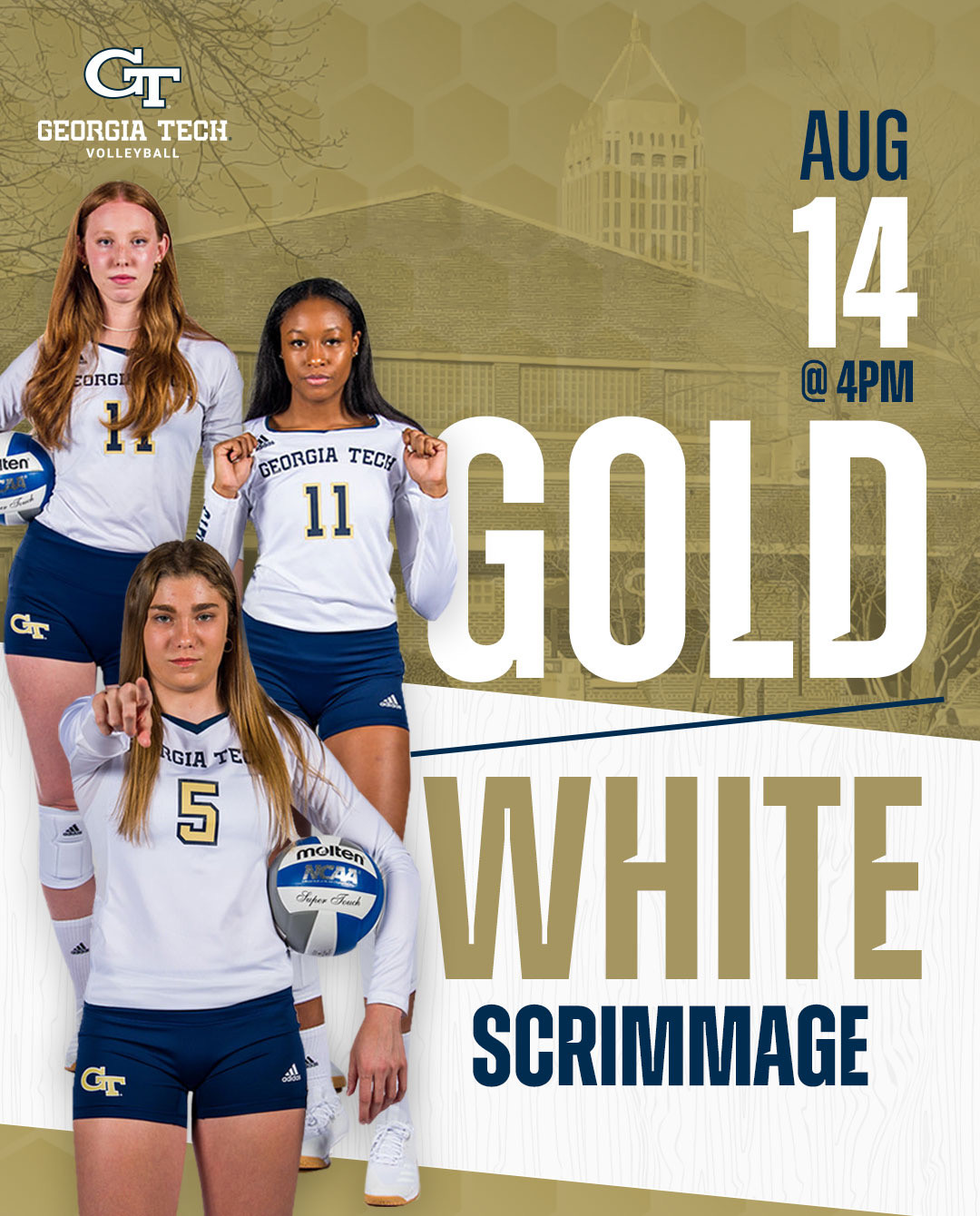 Following an exhibition match on the road at South Carolina (Aug. 21), Tech opens the regular season on the road at the Ole Miss Invitational by hosting Ole Miss in Oxford (Aug. 26). Their official return to O'Keefe Gymnasium, hosting the GT Invitational starting in Dayton (Sept. 2).
Tech's schedule is highlighted by 13 matches against 2021 NCAA Tournament teams, four at home against Dayton (Sept. 2), BYU (Sept. 8), Ohio State (Sept. 11) and Pitt (Oct. 19). The Jackets will host 14 regular season games on the Flats, most notably the aforementioned Pitt matchup at the Thrillerdome. The event will mark the first volleyball game at McMish Pavilion since the Alexander Memorial Coliseum was renamed and renovated. The remaining 13 games will be played in O'Keeffe Gymnasium, including two home contests.
Season tickets
Adult season – $65.00
Youth (ages 3-18)/Senior (55+) season – $35.00
Season tickets are available now. Reserve your new season tickets online here or renew your tickets through your ticket account at www.ramblinwreck.com/myaccount or by calling the Georgia Tech Ticket Office at 888.TECH.TIX. To renew online, please login to your account and click on Ticket Renewal in the right hand column. If you need assistance, the Georgia Tech Ticket Office is open Monday – Friday 9 am – 5 pm. Seating in O'Keeffe Gymnasium is general admission.
Alexander-Tharpe Fund
The Alexander-Tharpe Fund is the fundraising arm of Georgia Tech athletics and provides scholarships, operations and facilities for Georgia Tech's 400-plus student-athletes. Be involved in developing Georgia Tech champions every day and helping the Yellow Jackets compete for major college athletic championships. Annual Athletic Scholarship FundScholarships awarded directly to Georgia Tech student-athletes. To learn more about supporting the Yellow Jackets, visit atfund.org.
For the latest on the Georgia Tech Yellow Jackets, follow us on Instagram (@GTVolleyball), Twitter (@GTVolleyball), Facebook (Georgia Tech Volleyball) or visit us at www.ramblinwreck.com.


[ad_2]

Source link