[ad_1]

As fall camp approaches, Brent Pry will begin trying to return Virginia Tech's defense to the success it saw under former defensive coordinator Bud Foster.
He has plenty of help on his coaching staff, but all indications this spring were that Pry will retain defensive play-calling duties during his first season as head coach.
Before we get to Pry calling a play in a game, the Hokies have some personnel decisions to make in August. Let's dive in.
Backup Defensive Ends: Jaylen Griffin vs. Eli Adams vs. CJ McCray vs. Matthew Carroll vs. Jordan McDonald vs. Kyrie Moyston vs. Keyshawn Burgos vs. Nigel Simmons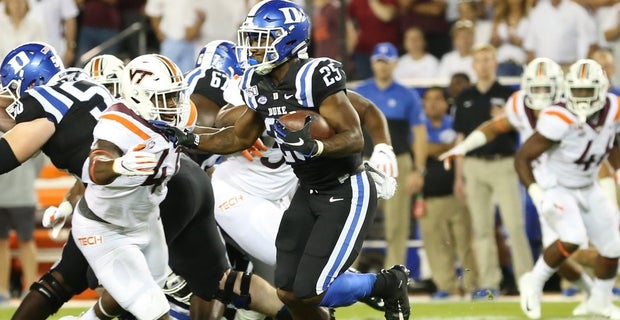 Let's just assume that Tyjuan Garbutt and Cole Nelson are fairly safe bets to start at defensive end. Of the two, Nelson is more likely to get pushed in August, but he was in a prime position following the spring.
Nebraska transfer Pheldarius Payne was expected to be a sizeable piece of this puzzle, but an Achilles injury will keep him out for most, if not all, of the season.
That leaves a little bit of experience vs. a lot of youth in the battle for backup defensive end spots. You have to figure Jaylen Griffin, who has served as a backup for several years now, is likely to maintain his spot. Eli Adams is another experienced backup with a chance to retain a backup role.
But all eyes will certainly be on the youngsters as they jockey for position. CJ McCray has drawn praise from the staff since they arrived, and he's at the point of his career where we could see some rapid development. Keep an eye on him this fall. Carroll played just a smidge last year and is entering year two, so he could be ready to make a move.
Jordan McDonald moved to defensive end in the spring, after previously moving to linebacker, after previously playing safety, so he probably has a longer development path at this point than the others.
Then, true freshmen Kyrie Moyston and Keyshawn Burgos will have to make a move early to get in the mix this season. It's probably better for both that they take a redshirt.
Nigel Simmons is a former walk-on who could provide further depth, but the Hokies would rather stock the second level of the DE depth chart with Griffin, Adams, and/or one of the youngsters.
4th Defensive Tackle: Wilfried Pene vs. Maxx Philpott vs. Desmond Mamudi vs. Malachi Madison vs. Lemar Law, Jr. vs. Gunner Givens
Norell PollardJosh Fuga, and Mario Kendricks give the Hokies a steady top three at DT. Kendricks has battled injuries his entire career, so DL coach JC Price will need him to stay healthy or this could become a shallow spot very quickly.
Pene is the favorite to be the fourth DT heading into camp. He played substantial snaps last season, despite just moving over to the defensive side of the ball. If his development continues, handling a fourth DT role this season probably isn't too big of an ask for the Frenchman.
As far as returners go, Pene is in the best position. Philpott and Mamudi both missed last season with injuries, so whether they can snag a backup spot is up in the air.
The Hokies added three quality defensive tackle prospects Malachi Madison, Lemar LawJr., and Gunner Givens.
There's a pretty good chance that Pollard and Kendricks depart after this season, so I wouldn't be surprised if Price gave at least one of those guys plenty of chances to play a role in 2022.
Will Linebacker: Alan Tisdale vs. Jaden Keller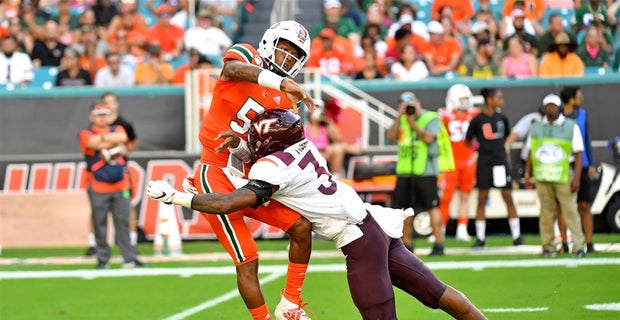 This is probably the battle to watch at the top of the depth chart on defense. Tisdale is the veteran incumbent and still has the athletic potential to be a very good linebacker. Keller is the redshirt freshman upstart who had a solid spring and needs to keep building on it.
If Keller continues his development and stamps himself as the future at this spot, that's a big piece that Pry can fill into his lineup for the next 2-3 years.
At this point, I'd say Tisdale retains the starting job, but Keller earns himself a decent amount of playing time anyway.
Sam Linebacker: Keonta Jenkins vs. JR Walker vs. Kelly Lawson
Another big one to watch. This is the new spot that Brent Pry's defense created, and he wants a long, rangy athlete that can play in space here. That's why he moved former safeties Keonta Jenkins and JR Walker and former wide receiver Kelly Lawson to this spot in the spring.
These guys are likely to split a little bit of time with the nickel, but this remains a key spot on the defense. Given his recent transition to defense and the fact that he still needs to fill out a little,
I'd say Lawson is likely on the outside looking in right now. It's a Jenkins vs. Walker battle heading into August.
Backup Cornerbacks: Brion Murray vs. DJ Harvey vs. Nyke Johnson vs. Cam Johnson vs. Elijah Howard vs. Mansoor Delaney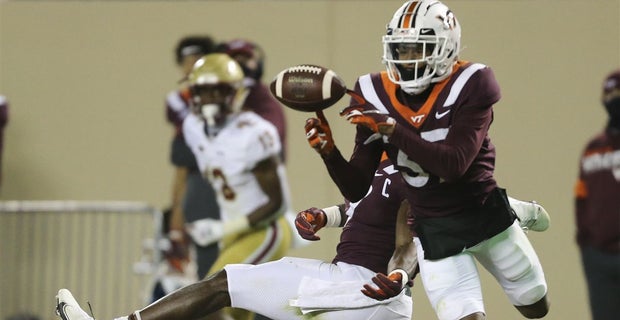 Much like defensive end, let's assume (even though I should never assume because I know what happens when you assume) that Dorian Strong and Armani Chatman are safely in as Tech's starting cornerbacks in 2022.
That leaves a backup spot behind both of them, along with a competition at the nickel cornerback spot. Brion Murray seems likely to claim a role as one of the top backups at the traditional spot, and he'll be in competition with DJ Harvey (and maybe others) at that cornerback spot.
There's also a quartet of youngsters, including Nyke Johnson, Elijah HowardCam Johnson, and Mansoor Delaney (who could also slot in at safety) that will look to earn early playing time.
Cornerback is one of those positions where true freshmen can slide in pretty easily. Strong did it himself, just like a long lineage of former top Virginia Tech cornerbacks, so don't be surprised if Johnson carves out some sort of role this season.
Backup Safety: Ny'Quee Hawkins vs. Jalen Stroman vs. Jalen Hoyle vs. Mansoor Delaney vs. Devin Alves
Chamarri Conner is going to be one of the impact players on this defense from his new safety spot. If the Hokies are going to exceed expectations this year, he needs to be the best player on the unit. Nasir Peoples seems like a safe bet to maintain a starting role at the other safety spot.
Behind them, the Hokies need some depth. Tech even looked over the summer for a transfer who could slot in at both corner and safety but apparently came up empty.
Hawkins is the veteran of the group, and he seems likely to nab one of the backup spots. Stroman has also been an impressive prospect, and he played a little bit last year, so perhaps he could make a move in August.
Then there is the next wave — Hoyle, Delane, and Devin Alves — who could get in the mix but seems to be a little further down the depth chart at this point.
Kicker: John Love vs. Zach Hoban vs. Kyle Lowe vs. William Ross
Love is a true freshman, but he handled placekicking duties during the spring game, so that's probably a pretty good indicator of his abilities. Hoban and Ross are former transfers, while Kyle Lowe is a Midlothian, Va., product.
At this point, it seems like it's Love's job to lose, but this will be one of the bigger question marks stretching into September.
With this much inexperienced at the position, you just don't know how they will fare until they get into a full stadium in a game situation. And Tech's first two games aren't going to be easy environments for a new placekicker to get comfortable.


[ad_2]

Source link