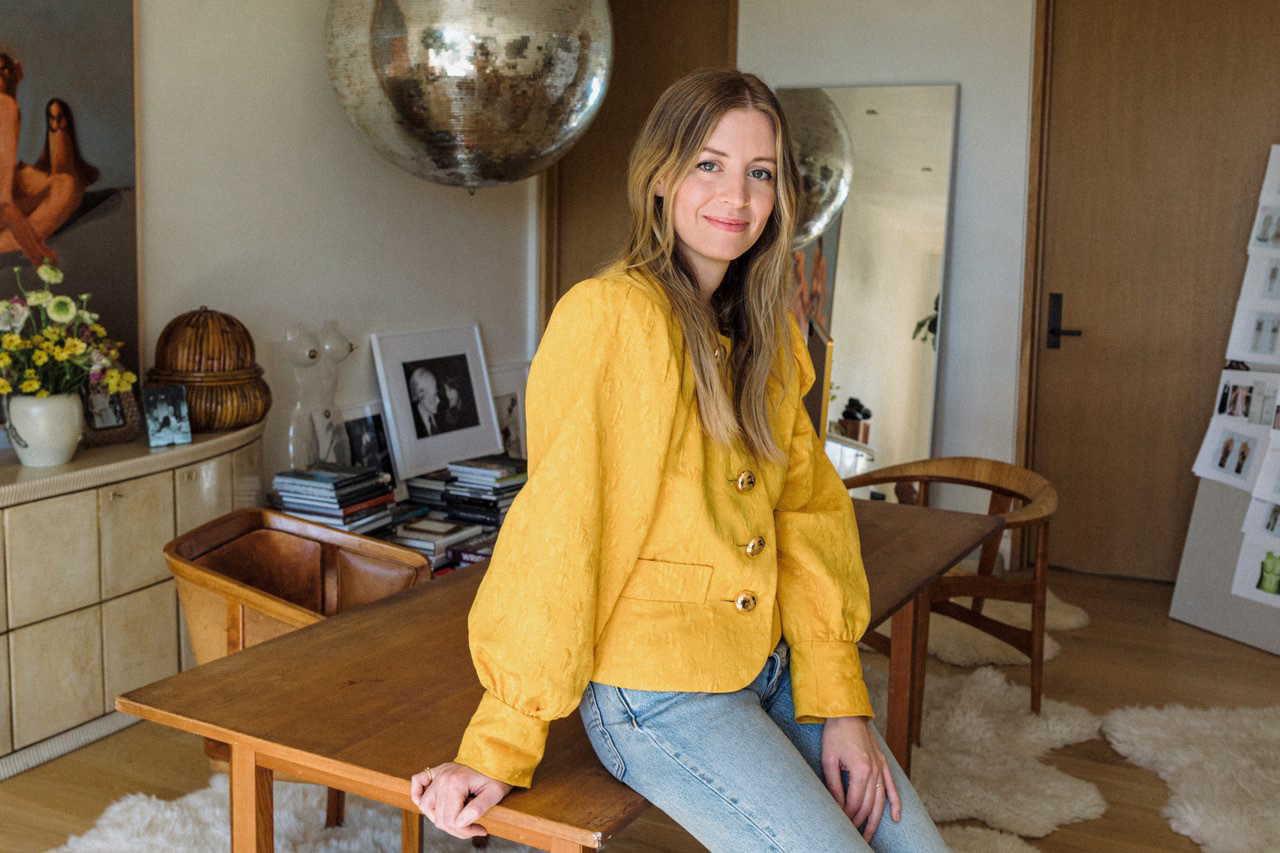 Lizzy Grover Rudd is changing fashion as we know it. The Los Angeles-based designer and collector, previously featured CultureYoung Collectors 2020 will feature works on contemporary social issues, art historical references and cutting edge design. How do you do it? When an idea comes to her head, she has to see it. Recently diagnosed with ADHD, Grover Rudd has been rethinking how she thinks, and it's evident in her new designs.
Her latest Grover Rudd collection, Nip Tac, focuses on plastic surgery as a form of body enhancement and reflecting on women's standards of beauty. The collection includes artworks created in collaboration with contemporary artist Marc Verabeoff and references older works, including the Fountain of Youth and 19th-century paintings. Grover Rudd is doing something revolutionary with her clothes—bringing historical and contemporary conversations about standards of beauty to the forefront of design.
Culture: What inspires you to think about fashion and the way it brings cultural criticism?
Lizzie Grover Rudd: I will go back over time and look at the research I do for each collection. When we look at the early history of plastic surgery, it is clear that there was a good idea, and even over time there was a good use and good application of plastic surgery. I don't think it was until recent years, with social media and easy access and affordability…what's alarming is the trend of it. It is far from its original purpose. Although there are thousands of years of history from medieval paintings to I thought it was an interesting development. Crazy people Age and misogyny ads. I think this is part of the historical element of the plot to me.
Culture: Do you feel like you're leading women's conversations into the clothing market?
Grover Rd. I think the conversation is already happening. It's a huge part of what I feel, especially for many of my friends who are mothers and have teenage daughters. I'm just adding my two cents, and I think there's probably an outfit where the discussion isn't going, on clothing, that will start a rumor. A fun way to show what you stand for and put your money where your mouth is [to] Donate. We have been hosting trunk shows and donating a portion of the proceeds to various organizations. Hopefully signs like these will help move the needle and not just about it.
Culture: You've been able to incorporate such a diverse collection of styles into Nip Tac. How do you decide what goes into a collection and what doesn't?
Grover Rd. It is an evolving process. I would like to have a wider medium size. Highlighting the differences is interesting to me. The oil paintings, the contemporary art photographs, the portraits, the wide range of things that I enjoy are put together in unexpected ways. It's not like I'm trying to tick every box for every collection, but I'm definitely trying to find something broad [as I can]. During the design process, I keep researching, and many things fall apart as I find more interesting parts. But I like it. Different mediums are my target.
Traditional: You have experience in architecture and interior design. When we talk about the way we decorate and design our personal spaces, do you see how we arrange our clothes?
Grover Rd. Absolutely. I think that people are both an expression and a reflection of who we are, however much we think about home and what we wear. I'm excited to transition from interiors to fashion. Because of the way people think about it, there's a little more pressure, longevity, and cost to the interior that hinders some creativity for me. Going into fashion was very freeing. In some ways, there is a lot of overlap and in some ways it is very different. People see their clothes as their mood; Their house is like a refuge.
Culture: Are our closets an extension of ourselves?
Grover Rd. 100 percent. I don't know the science behind how to explain this, but the information you present in the way you dress, we read people unconsciously. How people interpret you is incredibly important.
Culture: What inspires you to think about your collections in the first place?
Grover Rd. I think it's my ADHD and not thinking about things. It is about the problems that are happening in the society in general. I read something or watch a Tik Tok video, I store it and I noodle on certain things. Whatever I paint the most… is how I normally run with it. If I find myself obsessing over a problem, this is the way I choose to do it.
If I'm stressed about it, I'm sure there are other people who are stressed about it. I'm not trying to be trendy or necessarily hit on things at the right time, but I'm hitting the tipping points first, like choosing the reproduction rights for the first set and seeing that breach right in front of our eyes. There are warning signs when picking up these items. It starts creeping up on me and makes me think. I keep them until it adds up to something I think really needs attention or something I want to focus on.
Sign up for culture newsletter
Of course, we can be close friends. Unfiltered access is expected.