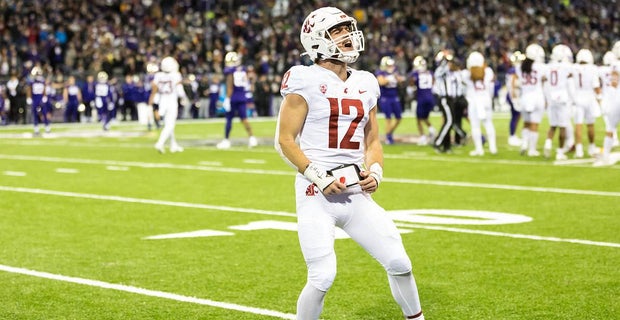 THE DEPARTURE OF wide receiver Joey Hobert was one of the most surprising developments of the Washington State football offseason, but where he will suit up this season isn't a surprise given the offensive coordinator at his new school. Hobert has landed at Utah Tech, formerly known as Dixie State, where his offensive coordinator is former WSU co-offensive coordinator and quarterbacks coach Craig Stutzmann.
Hobert caught 15 passes for 192 yards and a touchdown last year for the Cougars, and played a key role on special teams. He was thought to be in line for a role increase at WSU in 2022 given that both Calvin Jackson Jr. and Travell Harris are off to NFL training camps.
Hobert entered the portal in early February and tweeted an offer from Utah Tech shortly after. The Trail Blazers went 1-10 last year in the school's second year as an FCS school.
Stutzmann was WSU's co-offensive coordinator and quarterbacks in 2020 and part of last season until being let go for not complying with the covid vaccine mandate for state employees.
Hobert joins another Coug from last year's team — quarterback Victor Gabalis — at Utah Tech. Gabalis entered the transfer portal in April following the Cougars' spring practice session. He was 17 of 36 for 199 yards and 2 touchdowns in three appearances — including a second-half start in the Sun Bowl — with WSU last season.
Here is a list of where the rest of the departed WSU players have landed:
Quarterback Jayden de Laura – Arizona

Center Brian Greene – Michigan State

Cade Beresford – Boise State

Jack Beresford – Boise State

Offensive lineman Sam Carrell – Texas Tech (walking on)

Offensive lineman Syr Riley – Idaho State

EDGE Carter Carlson – Idaho

Kicker Lucas Dunker Jr. – Tulane

Kicker Andrew Boyle – Oregon

EDGE Marquise Freeman – Chattanooga

EDGE Willie Taylor III – Eastern Kentucky

Cornerback Alphonse Oywak – Eastern Washington

Wide receiver Billy Pospisil III – Colorado School of the Mines

Running back Peni Naulu – Northern Iowa

Quarterback Cammon Cooper – Hawaii

Wide receiver Marshawn Buchanan – Tarleton State

Safety Halid Djibril – Tarleton State

Offensive lineman James McNorton – San Jose State

Offensive lineman Dylan Mayginnes – Montana

Wide receiver Zion Lucia – San Diego

Defensive back Zane Thornton – Eastern Washington

Wide receiver Carter Kamana – Fullerton College

Linebacker Micah Lopez – New Mexico Military Institute

Safety Arna Bontemps – Cerritos College
Several Cougars of note from last season entered the portal but have not landed anywhere based on our research: Defensive tackle Nick Sheetz, long snapper Tyler Williams and defensive tackle Xavier Young. Wide receiver Mitchell Quinn is also on that list, but he only entered the portal last week.
In addition, a number of short-stinted walk-ons at WSU entered the portal this offseason but to this point have not landed. They include linebackers Giovanni Iovino and Daniel Harrison, cornerbacks Jacob Skobis, Jhamell Blenman and Deonte Hayes, safety Jaedon Hall, linebacker Okoye Mangrum and defensive tackle JP Leahy.