Let me start this off by introducing myself: I'm Madeline, the fashion editor of All Girl. I've been running the Everygirl fashion department since 2021, and my work occupies most of my mind at all times (that and a 16-year-old dog, if I'm being completely realistic). I love writing and talking about fashion for a living – it's something I've always dreamed of doing, which makes it easy to pour every fiber of my being into our fashion department. Part of my job as a fashion editor is to constantly try and test clothes from different brands to make sure we're covering the best. TL;DR: I'll try a a lot Clothes.
Another of my responsibilities as fashion editor? Writing and curating our capsule wardrobes. And recently I realized a pretty wild fact: I never talked about it mine capsule wardrobe. I've been building my personal capsule wardrobe for years, and given how many clothes I try on, if something sticks around, of course; Really cool.
I like to incorporate trends into my outfits, but I also have basics that I build my outfits from every day. These main parts are the best of the best; Items that I constantly have, lose, and constantly wear in my daily life. Without thinking too much, I open my closet doors and break open my personal capsule wardrobe.
To work from the bar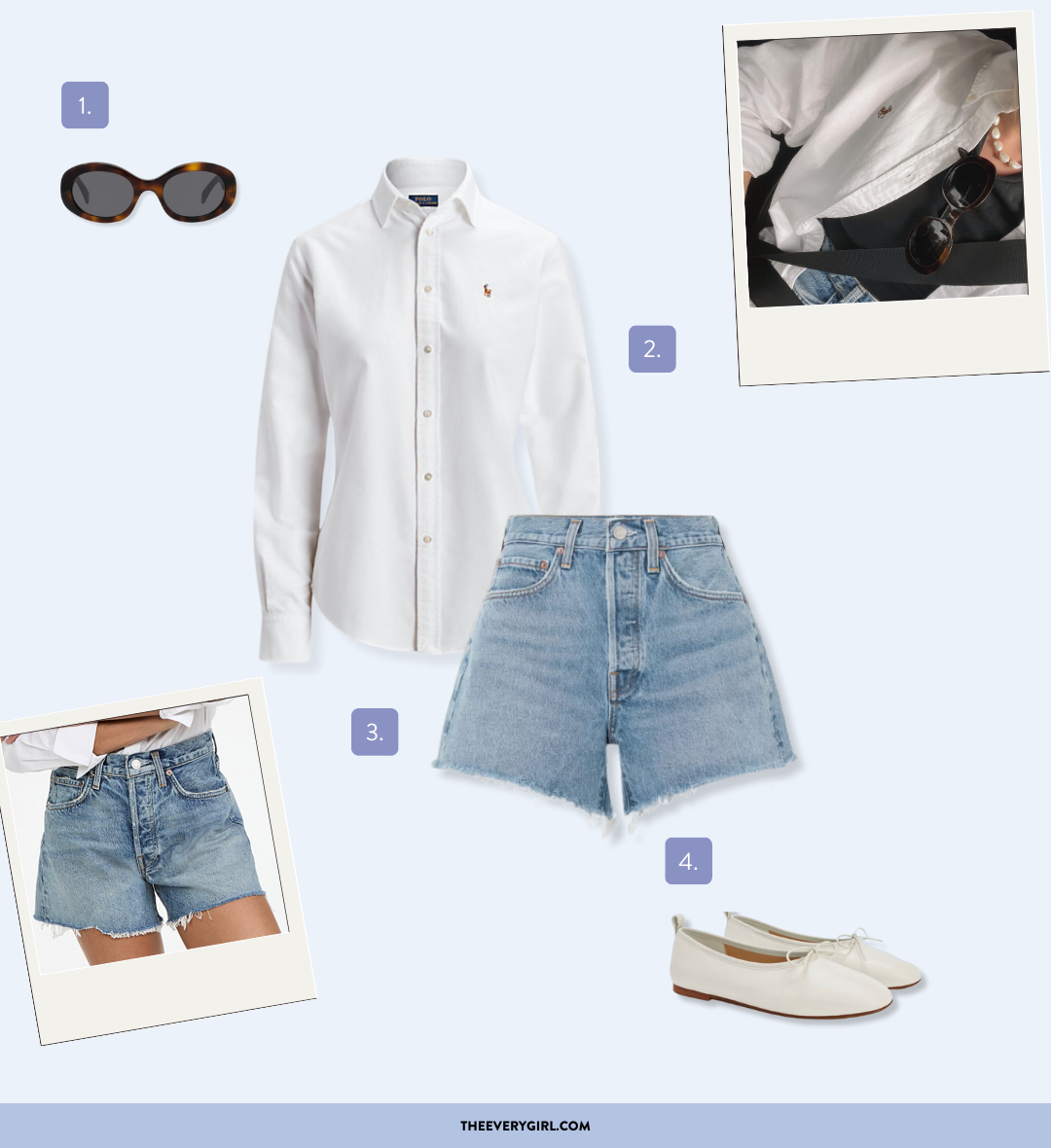 Sunglasses | button up | Denim shorts | Ballet houses
If I have a day where I want to get ready but still act normal, this is what I almost always wear. This button-down is one of my favorite pieces of all time; It's on the thicker side, which means it doesn't crease all day, and I'm glad I finally invested in a good pair of buttons so I don't have to keep replacing them.
These denim shorts are what I consider absolute perfection. They are long and on the loose side, but don't stretch all day, and I literally wear mine almost every day during the summer months. I've had mine for two years and am still excited to get them out of storage this year.
Celine Triomphe sunglasses are one of my biggest splurges, but I don't regret them at all – quite the opposite, in fact. They are a classic, oversized pair that look good with any outfit, and I wear mine every day. Out of my many sunglasses, this is my favorite pair. With my favorite ballet flats (I own two colors!), it's a classic, uniform look that I wear again and again.
To have dinner on the balcony
Earrings Earrings | maxi dress | Bean Bag | Heel shoes
If you've been around here for a while, you know that my love for studded tommy bags knows no bounds. I love to have fun with my gear, and this is arguably the most fun you can have with a bag. I have one that I use in winter (with dark flowers) and one that I wear in summer (with orange on it), and that one is no longer available, I like this fruit salad version better. Case in point: How to rock this simple maxi dress and heeled shoe combo—perfect for an evening on the patio with a glass of crisp rosé.
I'm obsessed with Jenny Bird jewelry, and these puff earrings are one of my favorite pieces of jewelry. They bring a little more *oomph* than my hoops, and have been glued to my ears since the day I got them.
To work from home
Sweater | Exercise Dress | Sneaker
I work from home three days a week, but I still like to dress up in some capacity to increase my productivity. This is my go-to workout outfit during the summer months. I have it in three colors, and I love it, it makes me look more put together than running shorts and tank tops, but it's just as comfortable. I appreciate that it can take me to whatever I have to do that day (like running errands or walking my dog) without a problem.
I'm a sneaker girl, and these New Balances are my favorite of the year. After waiting for my size to come back in stock, I now own two colors and will wear them again. I've been wearing sweatshirts almost every day, and I got this Annie Bing on sale last year and I wear it several times a week. It's definitely a bummer, but it's worth it because I feel like it makes any casual outfit a little cooler (I love wearing jeans and a jacket, especially when the weather's cold).
to happy hour
body suit | Jeans Shoulder Bag | Heel shoes
Listen: I never expected to be the SKIMS stan. But after trying dozens of bodysuits, SKIMS stand out in a league of their own – in my humble opinion. I have three different styles, but this is my favorite; I honestly don't know if I've ever put anything more flattering on my body in my life. I personally find them supportive because I don't want to breastfeed with them, which is great for me tbh.
These relaxed jeans are the favorite jeans of the year. They are loose, comfortable, and not too wide but not too tight which I felt like I couldn't find before. When I went to Europe last month, these were the only jeans I packed, which says it all. This is another staple bag in the wardrobe. It's the perfect size, it's a different shape, and I wear it both casually and casually.
I struggle a bit with heels, but these little kitten heels are the perfect slightly elevated shoe for summer, and have been one of my most worn pairs of 2022. Dressed up or down as I wanted that day.
To do the work
White Tank | Shoulder Bag | Denim shorts | Silver stocks
I'm a Birkenstock boy to the core. I grew up being pampered by my grandmother in Birkenstocks, and I've had a pair since I was little. That being said, these are my favorite pair I've ever owned (and again, I bought them in two colors). They don't need to be broken in like classic Birks (and thank God for that), and the gold straps make them feel a bit more classy than classic Birkenstocks. These are the shoes I keep around my house all summer long, and I wear them to run to work or take my dog ​​out or exercise – meaning I wear them on my feet every day.
If I'm having a casual day in the summer months, a white tank, denim pants, and these Birkenstocks are my go-to, no question.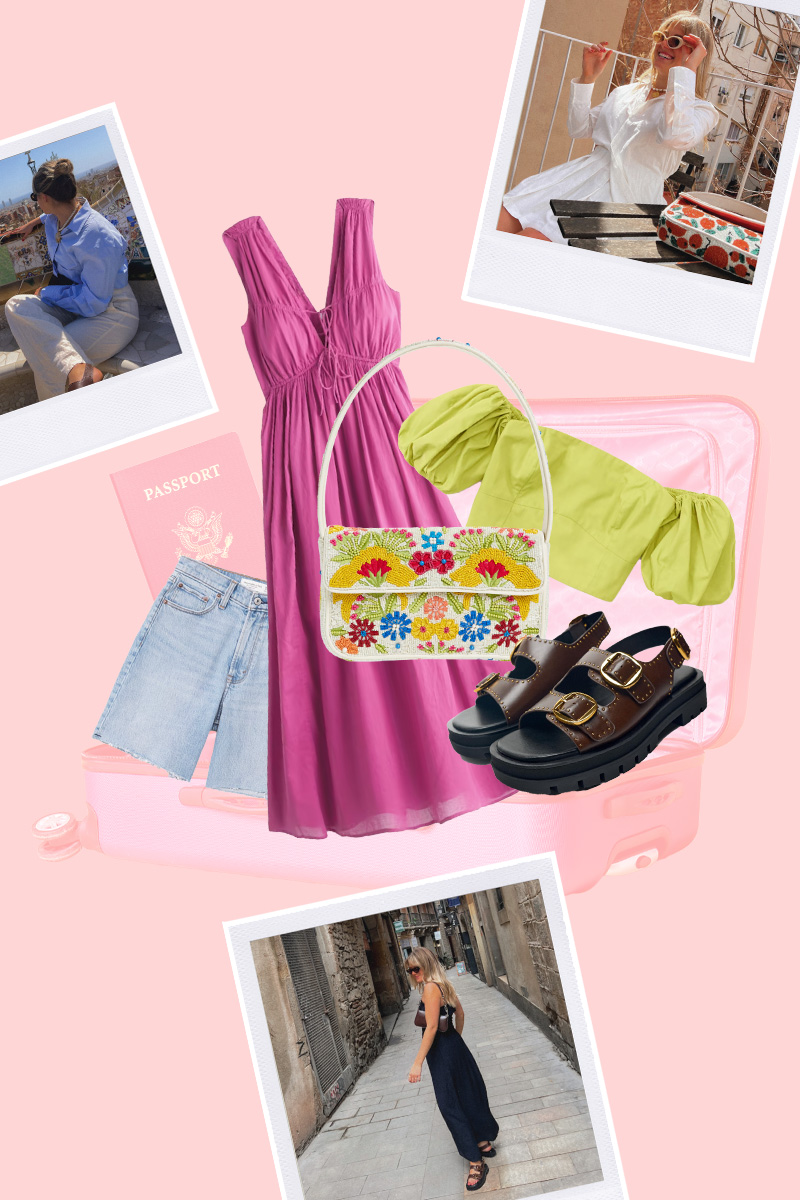 Our fashion editor just went to Europe – here's what she got